OKA INDUSTRIALIZED BUILDING SYSTEM
OKA Industrialized Building System ("IBS") is an innovative building system to meet the revolution for today's construction industry. OKA provides the frame structure of a building in a salient way as compared to conventional construction method. Based on the buildability, economy and standardization of precast components, OKA IBS consists of following structural elements :


•
Cast in-situ ground floor, typically reinforced concrete ground beams and slabs.

•
Precast reinforced concrete columns.

•
Precast reinforced concrete beams and precast half slabs with composite in-situ concrete topping.
(Half slabs can be either reinforced concrete or prestressed concrete type)
•

Precast reinforced concrete staircases.

•

Other precast elements to project's requirements.
APPLICATIONS
•

Residential Buildings

•

Commercial Buildings

•

Standard JKR Buildings

(Schools, Quarters, Colleges, Institutions etc.)

ADVANTAGES

•

Speedy Construction

-

Simplified construction method, as a result saving time and shorten duration of project.

•
Ease of Installation
-

Less

labour required at site and thus reduce dependency of foreign workers at construction site.

•

Aesthetically Pleasant

-
Highly aesthetic end products through quality controlled pre-fabrication in factory.

•

Quality Assurance

-

Precast components are manufactured under controlled factory environment with stringent ISO 9001:2000 quality management system.

•

Cleaner and Safer Site Environment

-

Reduction of timber formwork and construction wastage create better site working environment.

DESIGN CONSIDERATIONS
| | |
| --- | --- |
| • | Design and analysis using PTC SE Cad software, a solely precast building elements design software developed by Housing Development Board, Singapore, which imposed over 25 years experience in IBS. |
| • | Analysis and design using finite elements method. |
| • | Ability to develop 3 dimensional view modelling. |
| • | Automatically generates structural detailing drawing for precast components. |
| • | With compliance with British Standard Code of Practice BS8110. |
| • | Characteristic concrete cube strength at 28 days for all precast elements : Grade 40. |
PRODUCT OVERVIEW
CONSTRUCTION SEQUENCES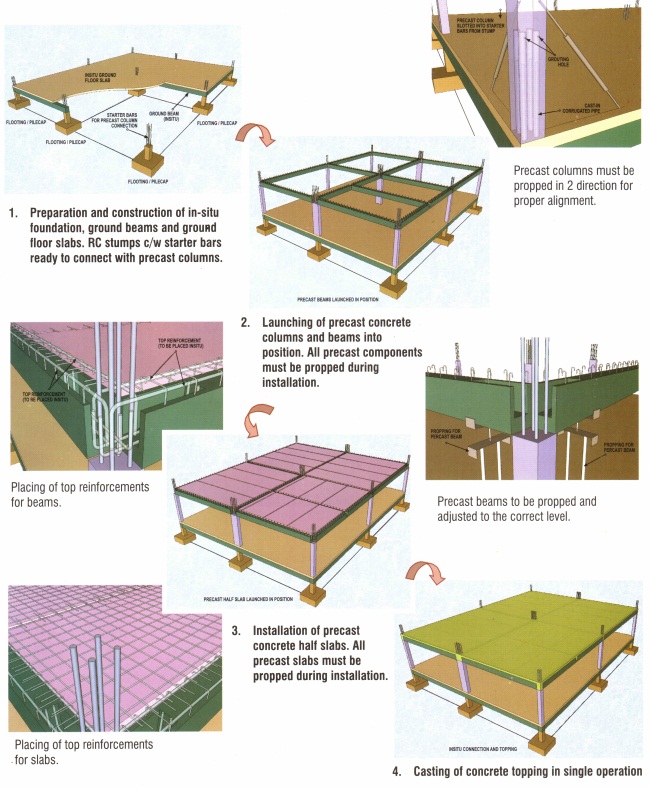 OKA PRECAST MARINE STRUCTURES - JETTIES
OKA Jetty Components is an innovative precast system which has the same features as IBS mainly designed to ease the construction for marine structures.

Precast jetty components consist of pilecap, fender beam, double T slab, staircase, beam, half slab etc.

Download PDF Brochure