PRECAST CONCRETE PILES

Confirm to MS 1314 : 2004


| | |
| --- | --- |
| | |
| RC Piles at OKA Factory | OKA Readymix concrete Plant |
---
OKA REINFORCED CONCRETE SQUARE PILES
| | |
| --- | --- |
| Design and Code of Practices | The design and manufacture of OKA Reinforced concrete piles is in accordance with : |
| MS 1314:2004 | "Malaysian Standard for Precast Concrete Piles" |
| BS 8004:1986 | "British Standard Code for Practise for Foundation" |
| BS 8110:Pt 1:1985 | "British Standard on Structural Use of Concrete - Code of Practise for Design and Construction". |
Materials Specifications

Concrete

Characteristic cube strength shall be 45 N/mm2; Water/Cement Ratio < 0.45

Cement

Ordinary Portland Cement to MS 522

Aggregates

MS 29

Reinforcement

MS 144 and MS 146
Design Criteria

The piles are designed and manufactured to withstand loads or stresses due to lifting, stacking, transport, handling, pitching and driving at site.

MAIN LONGITUDINAL REINFORCEMENT is designed for lifting, handling and pitching. It is also been taken into consideration for contributing to the axial load capacity :

LATERAL REINFORCEMENT in the form of links is provided to prevent shattering or splitting of pile during driving :



All Piles

Minimum 0.6% steel content by volume (at pile head/toe)

Minimum 0.2% steel content by volume (at pile body)
| | |
| --- | --- |
| Handling & Pitching | OKA piles are designed to resist bending moment due to single point or two points lifting/pitching. |
Pile Shoes

OKA piles come with FIVE alternative type of pile shoes. The type of pile shoe selected depend on driving and soil conditions.

(FLAT SHOE)

Type N

Normal Flat Shoe
(Flat-ended MS Plate)

.....

easy to medium hard driving

(POINTED SHOES)

Type 1

X-Pointed Shoe

.....

moderate to hard driving

Type 2

Fabricated Pointed Shoe

.....

normal hard driving

Type 3

Cast-iron Pointed Shoe

.....

normal hard driving, to penetrate cemented soil layer, pile seating on weak rock

Type 4

Rock Shoe
("Oslo Point")

.....

hard driving and piles seating on hard rock strata
---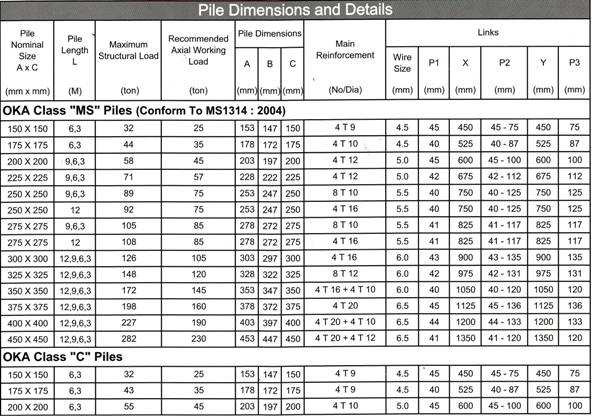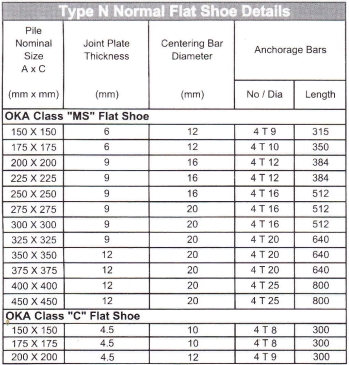 ---

CAPACITY OF PILE
The maximum allowable structural working load (Safe Working Load) of the pile is calculated in accordance with BS 8004.

Max. Structural Working Load

=

fcu x Ac

+ fsc x Asc
3.65

fcu

Characteristic cube strength of concrete at 28 days = 45 N/mm2

Ac

Area of concrete

fsc

175 N/mm2 for High Yield Reinforcement

Asc

Area of steel
Notes :

1.

OKA Sales "MS" piles are designed and manufactured in accordance with MS 1314 : 2004.

2.

OKA Class "C" piles are designed and manufactured in accordance with BS 8004.

3.

Concrete used shall be grade 45 with characteristic cube strength of 45 N/mm2 at 28 days.

4.

The above structural loads are for reference only.
Actual structural loads are also dependent on other factors especially ground conditions.
---

TYPES OF POINTED PILE SHOE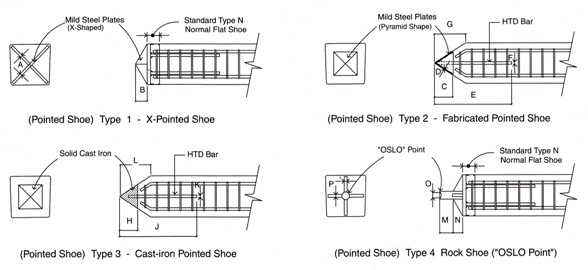 ---

Quality Control
Quality Control of all materials and components in pile manufacturing is an essential part of the OKA Piling system.

To achieve this, regular testing is carried out and maintenaned in accordance with OKA's specifications, relevant British Standard Codes of Practices and Malaysian standard. Results are recorded graphically to ensure trands can be recognised early and for ease of reference each pile carries an identification number.

Among the many test carried out are :

Test on concrete cubes for compressive strength.

Checks on finished piles for straightness, cross-section, alignment of joint and fittings.

Slump test on concrete batches.

Test on aggregate samples for grading and silt content.

Stringent checks on reinforcement cages for steel quality, spacing and stirrups pitch.
Download PDF Brochure